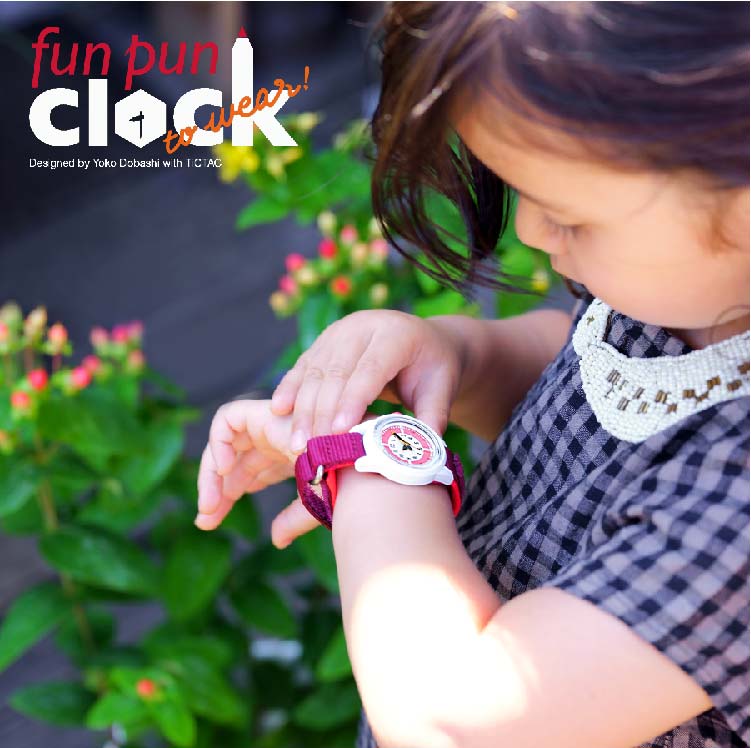 *Please scroll to the bottom of the page for the English version.
「ひとりでつけられて、じぶんでよめちゃう腕時計」
●じぶんでつけられる
靴のベルクロと同じ要領なので、
お子さんがいつでも好きな時につけられます。
お出かけ前の親御さんの手をわずらわせません。
●モンテッソーリ教育を土台にしている
幼児の理解を促す工夫、親が子どもに声がけしやすい工夫を施した文字盤。時計がすぐに読めるようになります。
●生活防水機能10気圧
腕時計したまま、手洗いできます。
●ソーラー電池
受験前に電池の心配がいらない余裕。
●環境に配慮した素材でできている
地球のために優しい素材です。
金属アレルギーの方にも安心してお使いいただけます。
Fun pun clock
As a designer and a mother
How do you talk to your children on a busy morning? What do you tell them? It would be helpful if your children prepared by themselves, like "I need to go to the restroom to leave within 10 minutes!" Then, we all can be kind and calm mothers or fathers. Imagine a morning where you and your child walk hand in hand.
Telling time = The Very first step of independence
Time is equally given to everyone. We can decide how to spend a day and the same with your child. Being able to tell time is the very first step of independence. What time is it now? How many minutes do I have till the upcoming schedule? What can I do within that time? Children who can think of these questions are more likely to find their passion and purpose in their lives when they get older.
Understanding the "amount" of time with an analog clock
It is significant for children to recognize their small development and appreciate it with their parents. These experiences will foster their confidence and proactivity. After all, don't we all want our children to have a happy life being who they are?
Behind the name of "funpunclock 'to wear!'"
In the beginning, I imagined a happy daily life with a clock on the wall. Then, the funpunclock started as a wall clock with a concept that "an analog clock that encourages children to read." I'm grateful that I have received many letters and emails telling me they appreciate it. It was hard to find the best place to sell the funpunclock at. However, fortunately, my dream to work with TiCTAC came true. As a partner of the production, they suggested me to collaborate with Q&Q Smile Solar. Besides its functionality and quality, I found our concepts were quite similar. It also let me be a part of a donation, which I had always wanted to do. As your child grows up, the opportunities where they have to be independent such as the entrance exam will increase. In these situations, it will be ideal if children can "wear" a clock that they always use at home. I hope the "funpunclock to wear" series will be something like a lucky charm for your child who is eager to try something new.
Designer: Yoko Dobashi
What's the funpunclock?
Since the first introduction in 2014, the concept of the funpunclock remains "an analog clock that motivates children who cannot yet tell the time to read the time from a clock." Encouraging children's self-improvement, we aim to make a family a place filled with a ton of smiles and happiness.
Good design award 2017
Introducing TiCTAC
TiCTAC is one of the most popular chains of watch stores in Japan. TiCTAC's lines vary from top-end luxury watches to casual ones with fashionable design and high performance. It has introduced many faces of watches: as not only a tool to express oneself but also a gift or an important piece for aspiring collectors.
Q&Q Smile Solar
With its high "Quality" and large "Quantity" for people all over the world, Q&Q offers the "Q&Q Smile solar" with water-resistant (10 bar). It can work with any light source requiring no battery replacement. The products of Q&Q are mainly composed of eco-friendly materials. Part of the sales will go to the TABLE FOR TWO charity, which provides the children in Asia and Africa with school meals.
●Wearing by Oneself
Like Velcro, your child can wear their funpunclock anytime they want. It never bothers parents on a busy morning.
●Based on the Montessori method of education
The features of the funpunclock based on the Montessori method allow children to read a clock super easily and help parents communicate with their children.
●The Simple and Beautiful Design
The design of the funpunclock is so simple. It's so versatile that you can rely on it in various situations. The color your children pick up will develop their sensitivity.
●Solar Powered Battery
Children don't have to worry about the battery at all.
●10 bar Water-Resistant
Wash your hands with your funpunclock on your wrist.
●Composed of the eco-friendly materials
The funpunclock consists of eco-friendly materials. Moreover, it is nickel-free!
●Profits will go to charity
Your purchase will save the future of children overseas.
Both Children and Parents Can Enjoy
We have also created the "funpunclock to wear" for adults, which has the same design as lineups for children. You can enjoy family matching. Also perfect for a gift!